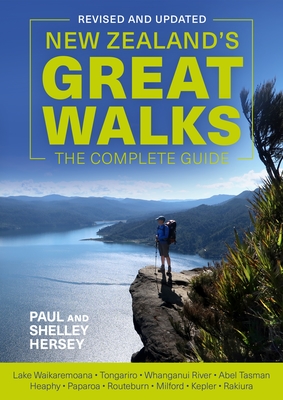 $45.00
NZD
Category: Travel
New Zealand's Great Walks are world class. In a country blessed with hundreds of spectacular tracks to choose from, these are considered the best of the best. They pass through some of our most breathtaking landscapes - including golden sand beaches, ancient rainforests and high mountains. New Zealand's Great Walks- The Complete Guide is the only handbook anyone will need to experience these outdoor adventures. Each of the walks (and one river journey) is presented in a clear, user-friendly way, including- - An overview and highlights - Planning notes - Track description - Points of interest - Other things to do in the area Also included in the book is- - A brief history of the Great Walks - Conservation information - Notes on how to prepare for your trip - Useful websites and resources Authored by expert outdoor enthusiasts Paul and Shelley Hersey and fully illustrated with maps and stunning photography, New Zealand's Great Walks is the guide no keen adventurer can do without! Revised and updated to include the Paparoa Track and Pike29 Memorial Track. ...Show more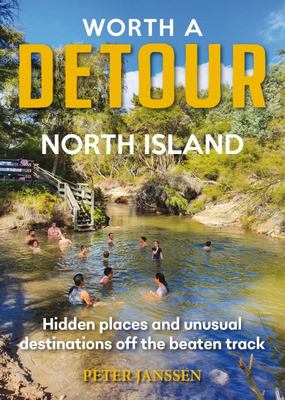 $40.00
NZD
Category: Travel
Travel writer Peter Janssen has travelled extensively around the North and South Island and in each volume he shares special quirky experiences and sublime scenery that are known to locals but are most often bypassed by visitors heading to better-known attractions. Avoid the mass of tourists and stroll empty beaches, experience unusual sights and adventures and uncover the other side of New Zealand's history and landscape with this comprehensive guidebook. Divided into geographic areas of the North Island, each entry includes descriptions, history, directions, addresses and contact phone numbers where relevant. Colour sections of photographs bring the text to life and location maps help plan your itinerary. ...Show more
$37.00
NZD
Category: Travel
Lonely Planet Best Day Walks New Zealand is your passport to 60 easy escapes into nature. Stretch your legs away from the city by picking a walk that works for you, from just a couple of hours to a full day, from easy to hard. Wind your way around volcanoes, feast your eyes on dramatic vistas, and scale breathtaking mountains. Get to the heart of New Zealand and begin your journey now! Inside Lonely Planet Best Day Walks New Zealand Travel Guide:  Colour maps and images throughout Special features - on New Zealand's highlights for walkers, kid-friendly walks, accessible trails and what to take Best for... section helps you plan your trip and select walks that appeal to your interests Region profiles cover when to go, where to stay, what's on, cultural insights, and local food and drink recommendations to refuel and refresh. Featured regions include: The North, Central North Island, Southern North Island, Top of the South, Canterbury, West Coast, Otago, The South Essential info at your fingertips - walk itineraries accompanied by illustrative maps are combined with details about walk duration, distance, terrain, start/end locations and difficulty (classified as easy, easy-moderate, moderate, moderate-hard, or hard) Over 65 maps The Perfect Choice: Lonely Planet Best Day Walks New Zealand, our most comprehensive guide to walking in New Zealand, is perfect for those planning to explore New Zealand on foot. Looking for more information on New Zealand? Check out Lonely Planet New Zealand guide for a comprehensive look at what the country has to offer. ...Show more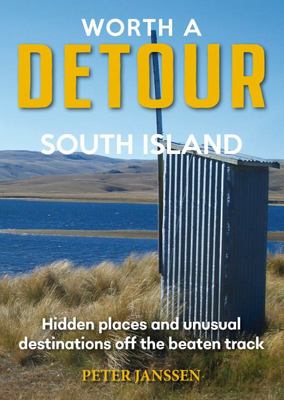 $40.00
NZD
Category: Travel
Travel writer Peter Janssen has travelled extensively around the North and South Island and in each volume he shares special quirky experiences and sublime scenery that are known to locals but are most often bypassed by visitors heading to better-known attractions. Avoid the mass of tourists and stroll empty beaches, experience unusual sights and adventures and uncover the other side of New Zealand's history and landscape with this comprehensive guidebook. Divided into geographic areas of the South Island, each entry includes descriptions, history, directions, addresses and contact phone numbers where relevant. Colour sections of photographs bring the text to life and location maps help plan your itinerary. ...Show more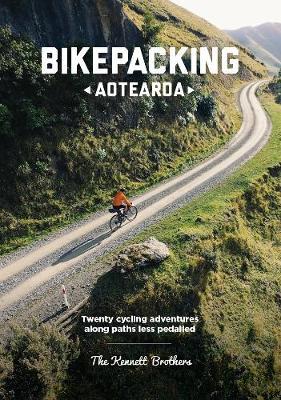 $30.00
NZD
Category: Travel
Bikepacking Aotearoa is a guide to twenty cycling adventures around New Zealand. The trips range in length from two days to two weeks and explore the less travelled parts of this beautiful little country. New equipment and a change of mindset have opened up a whole new world of possibilities. Bike pack ing bags, strap directly on to the bike and allow you to travel fast and light, on off-road capable bikes. Get away from busy main roads. Take to the gravel backroads, cycle trails, and back-country tracks to really get away from it all and find the hidden gems that Aotearoa has to offer. For riders who are looking for adventures close to home and for bikepacking routes that can be completed in 2-3 days Bikepacking Aotearoa offers a choice of 20 exciting routes that explore some of the most scenic parts of the country. These routes are perfect as weekend getaways or as preparation for a bikepacking event. • Introductory chapters cover equipment choice, bike setup, training and preparation. • Includes detailed route descriptions, maps, elevation charts, essential service listings • Routes are graded by difficulty • Includes a list of Bikepacking events on offer around Aotearoa NZ Contents Introduction Choosing and fitting your bike Packing your bags Preparation On the road North Island 1. The Heart of the Octopus 2. Great Barrier Island 3. Coromandel Peninsula 4. Raglan to Te Awa Loop 5. Caves to Coast Loop 6. Geyserland Classic 7. Whanganui – Whangaehu Valley Loop 8. Mangatutu Mission 9. The Five Beaches 10. Remutaka Plus South Island 11. Marlborough Sounds Loop 12. Kahurangi 500 13. Tasman's Great Taste Trail Plus 14. Rainbow – Molesworth 15. Wilderness No.8 16. Le Banks Peninsula 17. Alps 2 Hakataramea Loop 18. Te Kouka Traverse 19. Nevis and the Old Man 20. The Ram Rock Other Rides Plus summaries of an extra 20 nearby trips – recommended by leading bikepackers. Bonus rides: * Tour Aotearoa: 3000 km the length of New Zealand * Kopiko Aotearoa: 1060 km cape to cape across the North Island ...Show more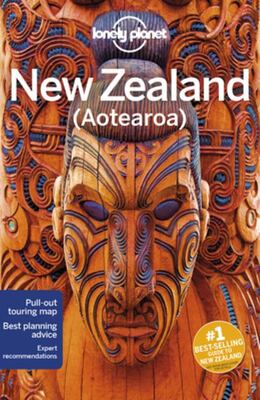 $40.00
NZD
Category: Lonely Planet | Series: Travel Guide Ser.
Lonely Planet: The world's leading travel guide publisher Lonely Planet Discover New Zealandis your passport to New Zealand's top sights and most authentic experiences. Start your trip with a rush in Queenstown, the birthplace of bungy jumping, kayak through the verdant cliffs of Milford Sound or enjoy local wines in Auckland, all with your trusted travel companion. Offering visually-inspiring content along with the most relevant, up-to-date advice on what to see and skip, and what hidden discoveries await you, this photo-rich, user-friendly guide makes planning fun and easy. Discover the best of New Zealand and begin your journey now! Inside Lonely Planet Discover New Zealand: In-depth coverageof the destination's must-see sights along with hidden gems that most guidebooks miss to get you to the heart of a place Intuitively organized with essential information at your fingertips Eye-catching full-colour design and easy-to-use layoutwith maps and images throughout Annotated imagesthat bring a destination to life Practical planning and transport toolsincluding a fold-out map (included in print version) that gives instant access to must-see sights to help you navigate as you plot out your itinerary Short and extended itineraries tohelp you tailor your trip to your personal needs and interests to make the most of your time on the road Insider tips and insightsto save time and money, avoid crowds and trouble spots, and to get to know the destination like a local Honest recommendations for all budgets Cultural insights and background informationto put top sights and experiences in context and to give you a richer, more rewarding travel experience (includes history, multiculturalism, religion, arts, architecture, food, and environment) Free, convenient pull-out New Zealand map(included in print version) plus over 70 maps CoversAuckland, Bay of Islands, Coromandel Peninsula, Waikato, King Country, Rotorua, Taupo, Tongariro National Park, Wellington, Marlborough, Nelson, Christchurch, Queenstown, Fiordland and more The Perfect Choice:Lonely PlanetDiscover New Zealand, our easy-to-use, expertly curated guide, is filled with inspiring and colourful photos and focuses on New Zealand's most popular attractions and authentic experiences for those looking for the best of the best and have minimal time for planning. Looking for a comprehensive guide that recommends both popular and offbeat experiences, and extensively covers all the country has to offer? Check out Lonely Planet New Zealandguide. Looking for a guide for just the North Island or the South Island? Check outLonely Planet New Zealand's North Island orNew Zealand's South Island for a comprehensive look at all the islands have to offer About Lonely Planet: Since 1973, Lonely Planet has become the world's leading travel media company with guidebooks to every destination, an award-winning website, mobile and digital travel products, and a dedicated traveller community. Lonely Planet covers must-see spots but also enables curious travellers to get off beaten paths to understand more of the culture of the places in which they find themselves. TripAdvisor Travelers' Choice Awards 2012, 2013, 2014, 2015, and 2016 winner in Favorite Travel Guide category 'Lonely Planet. It's on everyone's bookshelves; it's in every traveller's hands. It's on mobile phones. It's on the Internet. It's everywhere, and it's telling entire generations of people how to travel the world.' - Fairfax Media (Australia)   ...Show more
$30.00
NZD
Category: Travel | Series: Naturalists' Guides
High-quality photographs from one of New Zealand's youngest nature photographers are accompanied by detailed species descriptions, which include nomenclature, size, distribution, habits, and habitat. The user-friendly introduction covers climate, vegetation, biogeography, and the key sites for viewing t he listed species. Also included is an all-important checklist of all of the birds of New Zealand encompassing, for each species, its common and scientific name, IUCN status. ...Show more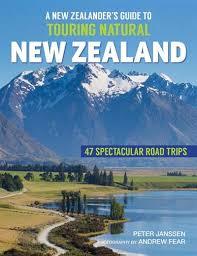 $40.00
NZD
Category: Travel
Catering for the 'new' wave of tourists - New Zealanders actually holidaying in New Zealand!  Wild coasts, jaw-dropping cliffs and caves, tranquil bays, thermal hotspots, towering alps, primeval forests, lakes and braided rivers, offshore islands...New Zealand's wonders are top of anyone's must-see lis t. This magnificent touring guide dedicated to natural attractions is structured geographically around itineraries - 22 in the North Island and 25 in the South - each of which takes in several sites within one area, describing their natural beauty and listing a few good short walks or detours that show off the scenery at its best. The itineraries are flexible, allowing the reader to simply follow the book or use it as back-up for more personalised touring plans. The text is supported by route instructions, detailed maps, illustrated panels on notable plants and animals, and stunning images from Andrew Fear ...Show more
$35.00
NZD
Category: Lonely Planet | Series: Lonely Planet Travel Guides
Lonely Planet: The world's leading travel guide publisher Lonely Planet Hiking & Tramping in New Zealand is your passport to all the most relevant and up-to-date advice on what to see, what to skip, and what hidden discoveries await you. Admire the dramatic peaks and valleys of Fiordland National P ark, stroll past bays and beaches of the Abel Tasman Coast, or scale an active volcano on the North Island, all with your trusted travel companion. Get to the heart of New Zealand's trails and begin your journey now! Inside Lonely Planet's Hiking & Tramping in New Zealand Travel Guide: Colour maps and images throughout Great Walksand itinerariessections show you the simplest way to tailor your trip around the best hikes to suit your own personal needs and interests Special featureson clothing & equipment, hike safety and other non-hiking outdoor activities Essential infoat your fingertips- including hours of operation, phone numbers, websites, transit tips, and prices Budget-oriented recommendations with honest reviews- including eating and sleeping reviews to towns and hiking destinations Cultural insightsgive you a richer and more rewarding travel experience - including history, environment and bird-spotting Over 75 maps Coverageof the Far North, Auckland Region, Tongariro, Mt Taranaki, Wellington Region, Marlborough, Abel Tasman, Nelson Lakes, Arthurs Pass, West Coast, Mt Aspiring, Queenstown Region, Fiordland, Stewart Island, and more eBook Features: (Best viewed on tablet devices and smartphones) Downloadable PDF and offline mapsprevent roaming and data charges Effortlessly navigate and jump between maps and reviews Add notesto personalise your guidebook experience Seamlessly flip between pages Bookmarks and speedy search capabilities get you to key pages in a flash Embedded links to recommendations' websites Zoom-in maps and images Inbuilt dictionary for quick referencing The Perfect Choice: Lonely Planet Hiking & Tramping in New Zealand,our most comprehensive guide to hiking in New Zealand, is perfect for those planning to explore New Zealand's top hikes. About Lonely Planet: Lonely Planet is a leading travel media company and the world's number one travel guidebook brand, providing both inspiring and trustworthy information for every kind of traveler since 1973. Over the past four decades, we've printed over 145 million guidebooks and grown a dedicated, passionate global community of travelers. You'll also find our content online, and in mobile apps, video, 14 languages, nine international magazines, armchair and lifestyle books, ebooks, and more. Important Notice:The digital edition of this book may not contain all of the images found in the physical edition. ...Show more
$38.00
NZD
Category: Travel
¿Completely updated to exclude all walking tracks in New Zealand closed due to Kauri Dieback disease.Fantastic alternative walks have been inserted!¿ Walking is one of the most popular recreational activities in New Zealand. The 365 revised and updated short walks presented here, mean both locals and ov erseas visitors will never be at a loss to find a short walk anywhere in the country. All of the walks are three hours or less and will suit those who enjoy walking but do not want a long tramp with heavy boots and a pack, or travellers who are short on time and those with young families. Arranged according to region, and prefaced with a handy map overview, it¿s easy to see at a glance where the walks can be found in each region. Every walk entry has a brief summary, with notes on track gradient, access, and walking times. A special feature of the book is the engaging writing style of the author, describing history, anecdote, and points of interest along the walk. Two inserts of attractive colour photographs highlight particular places of scenic interest in the three main islands of the country. Auckland writer Peter Janssen is a keen outdoorsman; he has travelled and photographed extensively throughout New Zealand and is continually adding to a resource of over 500 individual walks. He is the author of a number of books including: Worth a Detour North Island, Worth a Detour South Island, Excellent Short Walks in the North Island and Excellent Short Walks in the South Island, Best Short Nature Walks in New Zealand and Exploring Aotearoa - all published by New Holland. ...Show more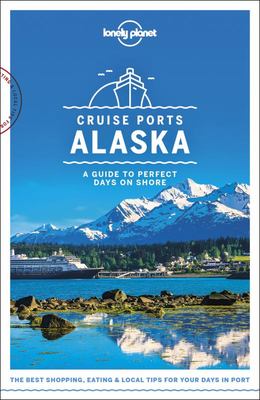 Alaska: Cruise Ports
by Lonely Planet Publications Staff; Catherine Bodry; Adam Karlin; John Lee; Becky Ohlsen; Brendan Sainsbury
$33.00
NZD
Category: Lonely Planet | Series: Travel Guide Ser.
Lonely Planet: The world's number one travel guide publisher* Lonely Planet's Cruise Ports Alaska is your passport to the most relevant, up-to-date advice on what to see and skip, and what hidden discoveries await you. Watch the skyscrapers of downtown Vancouver disappear behind the trees of Stanley Pa rk as you glide beneath the Lion's Gate Bridge, relive the wild drama of the gold rush era in Skagway, nose around Cold War relics amidst giant glaciers in Whittier; all with your trusted travel companion. Discover the best of Alaska and begin your journey now! Inside Lonely Planet's Cruise Ports Alaska: Full-color maps and images throughout Highlights�and itineraries help you tailor your trip to your personal needs and interests Insider tips to save time and money and get around like a local, avoiding crowds and trouble spots Essential info�at your fingertips - hours of operation, phone numbers, websites, transit tips, prices Honest reviews for all budgets - eating, sleeping, sight-seeing, going out, shopping, hidden gems that most guidebooks miss Cultural insights give you a richer, more rewarding travel experience - history, art, architecture, politics, landscapes, wildlife, cuisine, customs, etiquette Over 35 color maps Covers Seattle, Vancouver, Ketchikan, Sitka, Juneau, Glacier Bay National Park, Icy Strait Point, Petersburg, Haines, Skagway, Whittier, Seward, Anchorage, Denali National Park The Perfect Choice: Lonely Planet's Cruise Ports Alaska, our easy-to-use guide, filled with inspiring and colorful photos, focuses on Alaska's most popular attractions for those looking for the best of the best. Looking for more extensive coverage? Check out Lonely Planet's Alaska�guide for a comprehensive look at all that the Alaska has to offer. About Lonely Planet: Lonely Planet is a leading travel media company and the world's number one travel guidebook brand, providing both inspiring and trustworthy information for every kind of traveler since 1973. Over the past four decades, we've printed over 145 million guidebooks and phrasebooks for 120 languages, and grown a dedicated, passionate global community of travelers. You'll also find our content online, and in mobile apps, video, 14 languages, 12 international magazines, armchair and lifestyle books, ebooks, and more, enabling you to explore every day. Lonely Planet enables the curious to experience the world fully and to truly get to the heart of the places they find themselves, near or far from home. 'Lonely Planet guides are, quite simply, like no other.' - New York Times 'Lonely Planet. It's on everyone's bookshelves; it's in every traveller's hands. It's on mobile phones. It's on the Internet. It's everywhere, and it's telling entire generations of people how to travel the world.' - Fairfax Media (Australia) *Source: Nielsen BookScan: Australia, UK, USA, 5/2016-4/2017 ...Show more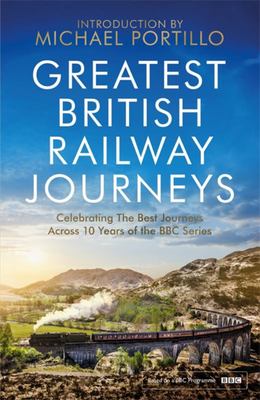 $50.00
NZD
Category: Travel
It is now over a decade since the much-loved Great British Railway Journeys series set off on its incredible run discovering the cultural, social and engineering landscape of the United Kingdom through the prism of George Bradshaw's Handbook to rail travel. Veteran politician and ex cabinet minister Mic hael Portillo has since presented eleven seasons of this ever-popular show on BBC Two, covering every part of the existing train network in Britain, as well as others that were closed as a result of the Beeching Report in 1963. Across a decade of these journeys, Portillo has celebrated how every corner of England, Scotland, Wales and Northern Ireland was opened up by the railway line as a result of the Industrial Revolution, thus giving fans a unique insight into our shared past of train travel since the Victorian era. With the anniversary, this new collection will celebrate Michael's top fifty journeys from the hundreds he has covered, adding more insight and analysis to some of the greatest railway lines, stations, bridges, viaducts and tunnels the Victorians built to create the world we now live in. From Paddington Station to the Clifton Suspension Bridge; the Southend Pier line to the milk wagons departing from Blake Hall Station. An unrivalled narrative to be treasured.Greatest British Railway Journeys is both a celebratory and charming ride through our country's beloved history - all from the unique position of a train seat. ...Show more