$20.00
NZD
Category: Humour
'Ah! This is the dream!' says Julian one morning. 'With good old British common sense and community spirit like this, there's no reason that we couldn't exist on the island like this for the rest of our days!' What could possibly go wrong . . .? Anne has gathered Julian, Dick, George and, of course, T immy, together for a last nostalgic jaunt in the countryside together before grown-up responsibilities take the four cousins off in different directions. It's only natural that they find their way onto Kirrin Island for a look around, as this might be the last time they're here together as a group. They are planning just to spend the night there and come home the next day, perhaps with a little exploring in the dungeon for old time's sake. But that night they hear the country has gone into lockdown. They are not allowed to leave. With their usual resourcefulness, they are determined to make the best of it, and remain cheerful and healthy. As Anne keeps saying: They're lucky, really, to have all this countryside and fresh air at their disposal!   ...Show more
$24.00
NZD
Category: Humour
--- Imagine a world where men and women are treated as equals, where the elderly are respected not neglected, where children can realise their dreams. Imagine a society, a kind and fair one, where people are free from worry and woe. Imagine a life, harmonious and balanced, where people are united by the ir love for their leader. Imagine that leader, wise and mighty, so devoted to his people that he is prepared to keep watch on every single one of them. Welcome to North Korea. Juche is the guiding principle of North Korean communism: the art of self-sufficiency. How to Live Well the North Korean Way will explain how you can: solve the stresses of your commute (sleep in the office); lose weight fast (rationing and daily military parades); embrace mindfulness (through manual labor) and cure urban loneliness (three families living in one room).'Conceived for the people, by the people, Juche states that only through back-breaking work, soul-nourishing study and boundless courage can progress be achieved.' ...Show more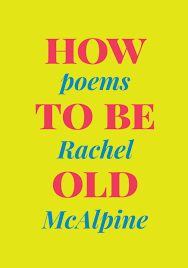 $25.00
NZD
Category: Humour
Wellington writer Rachel McAlpine blogs and podcasts about living and ageing and is celebrating her 80th birthday with a book of poems. How to Be Old is an explosion of humanity on the page with some practical tips from the author and sage advice from Elsie aged five. Rachel has also written novels, son gs and plays, and books about writing. Her website is writeintolife.com ...Show more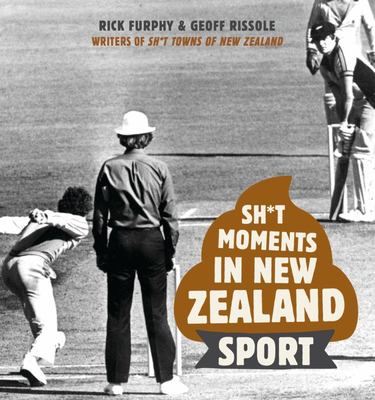 $25.00
NZD
Category: Humour
The Sh*t Towns of New Zealand writers turn their sharp minds to our most embarrassing sporting moments.
$25.00
NZD
Category: Humour
The sequel to the #1 New York Times bestselling phenomenon Strange Planet, featuring more hilarious and poignant adventures from the fascinating inhabitants of Nathan W. Pyle's colourful world. In this eagerly awaited sequel, Nathan takes us back to his charming and instantly recognisable planet colour ed in bright pinks, blues, greens, and purples, providing more escapades, jokes and phrases. Nathan mixes his most popular Instagram comics with more than thirty original works created exclusively for this second volume to explore four major topics: traditions, nature, emotions, and knowledge. He inducts new and longtime fans into a strangely familiar world and its culture, from "cohesion" (marriage) to "mild poison" (alcohol) to the full lyrics to "The Small Eight-Legged Creature" (sung to the tune of The Itsy Bitsy Spider). Bright, colourful, and whimsical - yet charmingly familiar - Stranger Planet is out-of-this-world fun. ...Show more
$30.00
NZD
Category: Humour
Men to Avoid in Art and Life pairs classical fine art with modern captions that epitomize the spirit of mansplaining. This hilarious book perfectly captures those relatable moments when a man explains to a woman a subject about which he knows considerably less than she does. Situations include men sha ring keen insight on the female anatomy, an eloquent defense of catcalling, or offering sage advice about horseback riding to the woman who owns the horse. - These less qualified men of antiquity dish out mediocrity as if it's pure genius - For the women who have endured overbearing men over the centuries- Written with hilariously painful accuracy "Now, when you're riding a horse, you need to make sure to keep a good grip on the reins." "These are my horses." Through cringe-induced empathy, this timeless gift book of shared experiences unites women across history in one of the most powerful forms of resistance: laughter. - Started as a Twitter thread and quickly gained widespread popularity. - A great pick for a birthday or Galentine gift for a friend who needs a funny pick-me-up- Makes a perfect gift for women and feminists with a wry sense of humor, millennials, anyone who loves memes and Internet humor, as well as history and art buffs.- Add it to the shelf with books like Men Explain Things to Me by Rebecca Solnit, Milk and Vine: Inspirational Quotes from Classic Vines by Emily Beck, and Awards For Good Boys: Tales Of Dating, Double Standards, And Doom by Shelby Lorman. ...Show more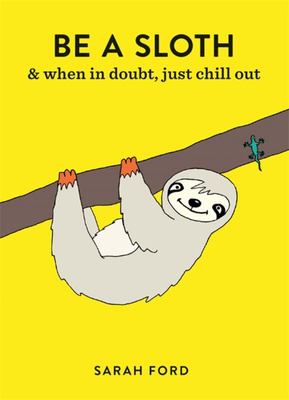 Be a Sloth
by Sarah Ford; Anita Mangan (Illustrator)
$14.00
NZD
Category: Humour | Series: Be A... Ser.
The ultimate guide to living life in the slow lane.Sloth takes life at his own pace. He knows what makes him happy (naps, Netflix binges, a good banana) and what makes him unhappy (laundry day, the gym, people who don't recycle), and he makes sure his life is filled with more of the former than the latt er. He is kind to his environment, but, just as importantly, he is kind to himself.   Be like Sloth, and you'll discover the secret to escaping the rat race and living a happy life in the slow lane.   A fun little gift book full of cute, hilarious and inspirational sloth mantras. ...Show more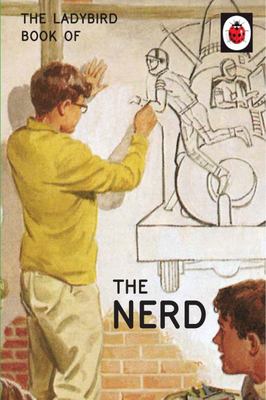 $21.00
NZD
Category: Humour | Series: The Ladybird Book of...
THE PERFECT GIFT for anyone who not only loves watching their favourite TV series over and over, but also enjoys reading online forums about their favourite TV series over and over. __________________________________ 'This is a nerd. He has a PhD and works in the biochemistry lab of a university hospita l. But this is not what makes him a nerd. His catalogued and indexed collection of over 6,000 empty crisp packets does that.' __________________________________ 'These nerds have paid money to see a film they think is terrible and have seen at least thirty times before. They are having the most fun they can possibly have.' __________________________________ This delightful book is the latest in the series of Ladybird books which have been specially planned to help grown-ups with the world about them. The large clear script, the careful choice of words, the frequent repetition and the thoughtful matching of text with pictures all enable grown-ups to think they have taught themselves to cope. Featuring original Ladybird artwork alongside brilliantly funny, brand new text. 'Hilarious' Stylist Other new titles for Autumn 2017: How it Works: The Brother How it Works: The Sister How it Works: The Baby The Ladybird Book of the Ex The Ladybird Book of the New You The Ladybird Book of Balls The Ladybird Book of the Big Night Out The Ladybird Book of the Quiet Night In People at Work: The Rock Star A Ladybird First Grown-Up Picture Book Previous titles in the Ladybirds for Grown Ups series: How it Works: The Husband How it Works: The Wife How it Works: The Mum How it Works: The Dad The Ladybird Book of the Mid-Life Crisis The Ladybird Book of the Hangover The Ladybird Book of Mindfulness The Ladybird Book of the Shed The Ladybird Book of Dating The Ladybird Book of the Hipster How it Works: The Student How it Works: The Cat How it Works: The Dog How it Works: The Grandparent The Ladybird Book of Red Tape The Ladybird Book of the People Next Door The Ladybird Book of the Sickie The Ladybird Book of the Zombie Apocalypse The Ladybird Book of the Do-Gooder ...Show more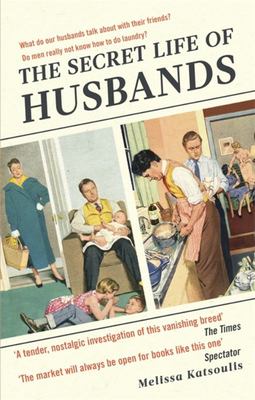 $25.00
NZD
Category: Humour
'Tender and] nostalgic' The Times What's married life like from the man's point of view?What does a wedding actually mean to a man?Do men really not know how to do laundry? Now, with masculinity in crisis (again), it's more important than ever to understand the secret lives of husbands. Couldn't our re lationships be better navigated if we listened, impartially, to how the world looks from inside a man's head? Do they feel sad at the thought of never falling in love again? Would they ever admit that their partner's cooking is worse than their mother's? Melissa Katsoulis's mission is not to find the perfect husband, or the worst. It's about talking to married men and understanding their world. We are inundated with statistical research about gender and domestic politics but it doesn't tell us how things really feel to real men. Through interviews with ordinary men, experts and imaginary Greek gods, Melissa will uncover everything you need to know about the man in your life. From a whistle-stop tour of husbands through history to husbands in the nursery, husbands on holiday, husbands in the kitchen and husbands of a certain age, The Secret Life of Husbands is a warm and witty journey of discovery about the modern-day husband. ...Show more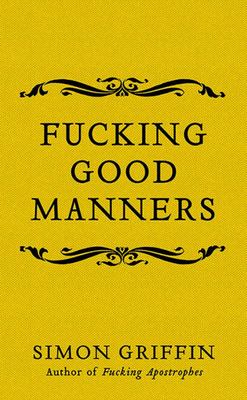 $23.00
NZD
Category: Humour
From the author of the riotous, controversial and hugely popular Fucking Apostrophes Manners are a minefield. Remembering which behaviours are appropriate for which situation (who it is okay to swear in front of, and for who that is a definite no), can leave even the most laid back exasperated. Enter Si mon Griffin, and his no-nonsense guide to getting it fucking right. Whether you're at work, on an airplane, out for dinner or on your phone, learn right from wrong in this furiously hilarious gift book. Fucking Good Manners is the perfect stocking-filler for a manners enthusiast, those who could do with a few polite behavioural tips, or anyone who just loves anything a bit sweary. This is the essential guide to fucking good manners. ...Show more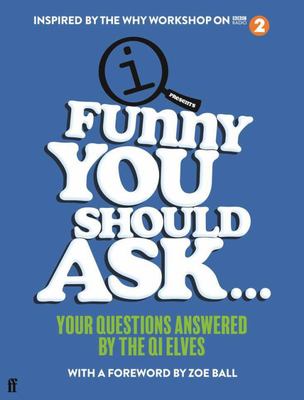 $28.00
NZD
Category: Humour
The QI Elves are the clever clogs behind the hit panel show QI. Every Wednesday the Elves appear on The Zoe Ball Breakfast Show's 'Why Workshop' where they answer the ponderings and wonderings of Radio 2's most inquisitive listeners. Funny You Should Ask features the QI Elves' answers to questions on to pics ranging from goosebumps to grapefruit, pizza to pirates and everything in-between. Generously sprinkled with extra facts from the Elves this is essential reading for the incurably curious. How much water would you need to put out the Sun? If spiders can walk on the ceiling why can't they get out of the bath? What's the point of snot? Why does my pizza taste so much better the next morning? Why do dads make such bad jokes? Why am I a capital letter and you're not? Why is there an Essex, a Wessex, a Sussex but no Nossex? Can I dig a tunnel to the other side of the Earth? Why aren't unicorns called unihorns? Do cats get goosebumps? When does a rock become an island? Why don't clouds freeze? Can I live forever? ...Show more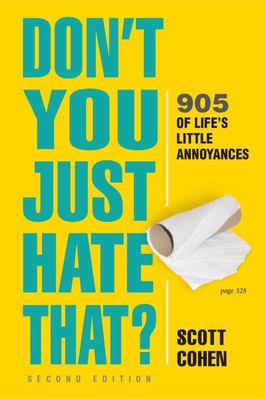 $25.00
NZD
Category: Humour
Don't you just hate people who view karaoke as their chance to shine? Sitting in a chair that's shorter than anyone else's? Holding the ketchup bottle over your French fries and the first thing that comes out is red water? Trading bad date stories with someone you're having a bad date with? In 2004, Sco tt Cohen wrote the first edition of Don't You Just Hate That?, a backlist gem with 159,000 copies in print. But while the rest of us moved on, occasionally muttering under our breath at all the things that aggravated us, Scott never stopped adding to his finely honed list, and voil --Don't You Just Hate That?, Second Edition, an update both timely and timeless, now with 904 of life's little annoyances, irritations, gripes, grievances, and petty pretensions. A true connoisseur of the vexatious, Scott Cohen returns with a selection of exasperating things, people, situations, complaints, and attitudes that everyone who's ever had a bad day can appreciate. Like: Watching a movie with your parents that shows full-frontal nudity. Having to make that face to people in the hallway that implies "Hey." When it takes a scissors to open a plastic package that the scissors is in. Yoga instructors who smoke. Pop-up ads that offer the removal of pop-up ads. That bacon will never be considered a vegetable. When everything a cynic warns you about is happening. ...Show more